Sterling Training and Assessment Services was formed in 1998 to fill a much needed gap in the gas skills arena, the main aim to offer the very best experience for customers in an ever changing industry, through many years of growth and investment Sterling have continually expanded offering new training courses and services.
We pride ourselves on the 'Sterling = happy people' ethos due to our approachable co-ordinators, trainers and assessors who are well known for their professionalism and helpfulness making the training and assessment process much more enjoyable.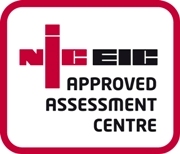 Scheme Rules of Registration
NICEIC Certification works closely with a UK-wide network of training and assessment centres, colleges and private training and assessment providers.
We provide a range of quality training materials, assessments, qualifications, On Site Guides, training material, powerpoints and forms to help support the centre and their customers.
The Accredited Certification Scheme
The Nationally Accredited Certification Scheme ( ACS ) is an option suited to those who have already gained experience working with gas or a related industry and results in a formal qualification that enables the trainee to become a member of the Gas Safe Register . Membership to the registration system, which is owned by the Health and Safety Executive, is a legal requirement protecting consumers from unsafe and dangerous gas work and providing reassurance that the engineer they are employing to carry out work in their home is qualified for the service they are undertaking.
ACS is overseen by the United Kingdom Accreditation Service (UKAS). This body is the only national accreditation body in the UK recognised to carry out assessments of organisations which provide certification, testing and inspection services against internationally-agreed standards. Accreditation provides independent recognition that an evaluator can demonstrate that it has been successful at meeting the standards of international accreditation.